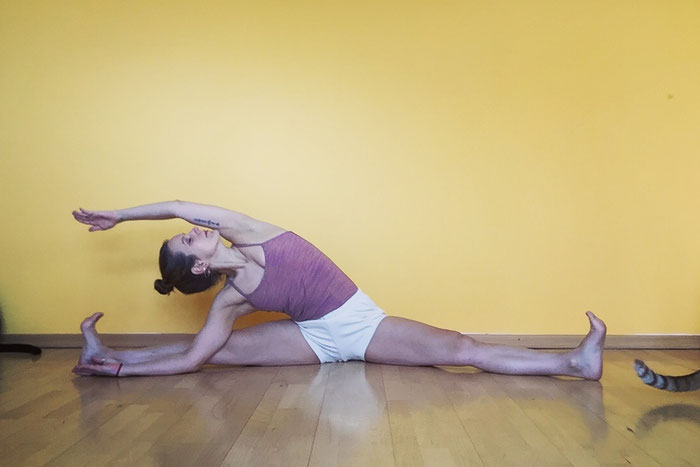 Your heart beats higher with? Sooo many things. Peanut butter, a warm cup of Matcha tea with Coconut milk in the morning, seeing the sun rise, waves rolling in, smelling amber in the air, watching humming birds, being hugged from the heart…..
You love to move, sing & laugh.
What is a thing you can talk about for hours? Obviously yoga. Especially with my dear friend Elke, who lives in Spain. Whenever we see each other, we lock us up, spent hours, days, and weeks talking about alignment, breath and philosophy - and surprisingly we never get bored.
What inspires you? Authentic people, who live what they say.
Where do you teach yoga? At Lord Vishnus Couch in my beautiful hometown Cologne. 
Who or what brought you to yoga? I had an accident during a handball game and after that, I needed to have surgery on my left knee. The surgery did not went that well and unfortunately I could not run and move the way I used to before. It was rough. I was 20 and devastated. One day my physiotherapist suggested I should try yoga to train my knee and my leg… So I took my first yoga class, just with the goal to get back on track to play Volleyball and Handball again…. Which I never did. I fell in love with yoga right away. This was almost 14 years ago. 
How has yoga changed your life? Yoga slowed me down. At the time I started to practice, life could not be fast enough for me - I could not be fast enough. Looking back: I was on a permanent run.
Yoga made me listen to my body for the first time in year, I guess. 
Listening deeply, learning to accept what is (no matter what) and being with whatever comes up made me softer. Made me grateful. 
What do you like most about yoga? That the practice changes every day, if you just pay enough attention.
What do you like about Omuah? And do you visit us in Barcelona some day? I really love the fabric of the brand, it feels so good on the body. And the pants are perfect for practicing yoga, because it just stays exactly where it should be :D Can't wait to see more from you Omuah!!! And since I visited Barcelona in 2015 the last time: I NEED TO COME SOON!